History & Culture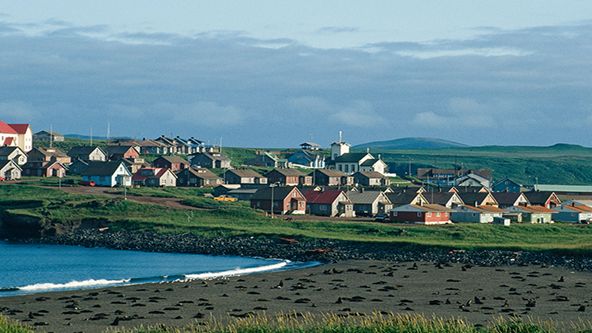 Tanadgusix Corporation (TDX) was created under the Alaska Native Claims Settlement Act of 1971 to provide economic wellbeing for the indigenous Aleut people who resided in the village of St. Paul, Alaska at the time of the act's passage by Congress as well as their descendants.
St. Paul Island is in the Pribilof Islands, located in the Bering Sea about 250 miles north of the Aleutian Islands region of southwestern Alaska, an area with rugged coastlines, powerful oceans, and severe weather. With a population under 500 people, the village of St. Paul is virtually the only inhabited community on St. Paul Island.
The Native people of the greater Aleutian Islands region refer to themselves by two names, Unangax̂ and Aleut, the latter which applied only after foreigners first came to the region in the mid-1700s, beginning periods of both Russian and American occupation. Russians compelled Unangax from villages in the Aleutian Islands to travel seasonally to the Pribilof Islands to harvest fur seals. By the early 1800s, seasonal work camps transformed into permanent, year-round Unangax villages on both St. George and St. Paul.
These islands are where Aleut hunters honed the indispensable skills necessary to survive on a remote, windswept island. By learning to navigate the oftentimes dangerous waters surrounding St. Paul, the ocean, once understood, allowed the harvesting of fish and marine mammals to provide nourishment for their families and community. Centuries later, our people still carry with them the skills and wisdom from those early days.
After American control supplanted Russian control, the U.S. federal government regulated most aspects of Unangax lives: marriages, movement to and from the islands, employment, and administration of justice. Unangax became wards of the government, a condition that remained until well after World War II.
Our current shareholders are the sons and daughters of men and women who survived that dark period in history and through strength and a clear sense of purpose, have become a proud and resourceful tribe. We are hunters in a new age, one of technology and innovation, of investment and self-determination. We are TDX.